---
FHA Loan Requirements 2019
---
In response to the financial crisis of 2008 FHA changed the minimum credit score and down payment requirements.
In 2010 FHA announced a new credit score policy for all new homebuyers: 

---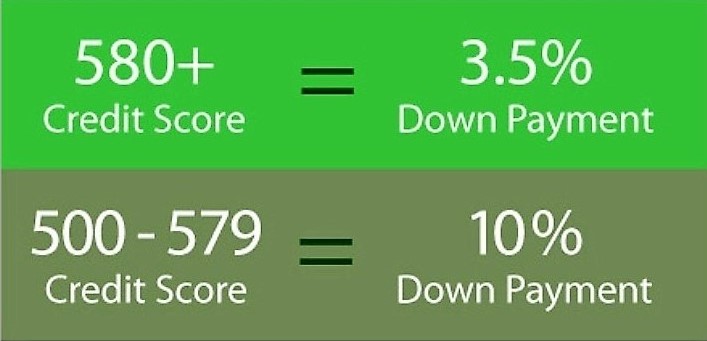 ---
Below you will find how to get approved for an FHA loan.

The availability of credit has increased since 2010. Loan approvals that were not available one and two years ago are now available!
---
FHA Loan Requirements 2019 - 

Credit
At least two years must have elapsed since the discharge date of the borrower and / or spouse's Chapter 7 Bankruptcy, according to FHA guidelines. This is not to be confused with the bankruptcy filing date. A full explanation will be required with the loan application. In order to qualify for an FHA loan, the borrower must qualify financially, have re-established good credit, and have a stable job. 

FHA will consider approving a borrower who is still paying on a Chapter 13 Bankruptcy if those payments have been satisfactorily made and verified for a period of one year. The court trustee's written approval will also be needed in order to proceed with the loan. The borrower will have to give a full explanation of the bankruptcy with the loan application and must also have re-established good credit, qualify financially and have good job stability. 
FHA guidelines lets you qualify after three years from a short sale. FHA guidelines requires three year past from the date of the short sale. If your mortgage payments were not late at the time of short sale you do not have to wait to qualify for an FHA loan.
FHA does not require collection-accounts to be paid off as a condition of mortgage approval. However, FHA does recognize that collection efforts by the creditor for unpaid collections could affect the borrower's ability to repay the mortgage. If evidence of a payment arrangement is not available, the lender must calculate the monthly payment using 5% of the outstanding balance of each collection, and include the monthly payment in the borrower's debt-to-income ratio.
Medical collections do not need to be paid for an FHA loan approval. FHA does not take medical collections into consideration. FHA does not require medical collection accounts to be paid off as a condition of mortgage approval and does not include them in the borrower's debt-to-income ratio.

---
FHA Loan Requirements 2019 - 

Down Payment
FHA announced a new policy to address risk. FHA changed the minimum credit score for new borrowers:
FHA requirements new borrowers will now be required to have a

minimum credit score of 580

to qualify for

3.5% down payment



Borrowers with

less than a 580 credit score

will be required to put down at least 10%

Minimum 500 credit score
As mentioned earlier we are closing loans in the low 500 credit score that previously were not being approved. 
---
FHA Loan Requirements 2019 - 

Debt-to-Income
FHA requirements include a maximum debt to income ratio. When a borrower applies for an FHA mortgage, they are required to disclose all debts, open lines of credit, and all possible approved sources of regular income. Using this data, the lender and FHA can calculate the borrower's debt-to-income ratio.
FHA maximum debt to income ratio can be over 55%
Manual underwriting maximum debt to income ratio is 40/50%
For the DTI to be over 50% credit score should be over 620 and the higher the better.
---
FHA Loan Requirements 2019 - 

Property Type
FHA eligible properties is for only primary residence. A Borrower may be eligible to obtain another FHA-insured Mortgage without being required to sell an existing Property covered by an FHA-insured Mortgage if the Borrower is:
relocating or has relocated for an employment-related reason 

establishing or has established a new Principal Residence in an area more than 100 miles from the Borrower's current Principal Residence

the Borrower has had an increase in legal dependents and the Property now fails to meet family needs;

the Loan-to-Value (LTV) ratio on the current Principal Residence is equal to or less than 75% or is paid down to that amount, based on the outstanding Mortgage balance and a current residential appraisal
Secondary Residences and Investment Properties are not eligible for FHA insurance.
FHA's programs differ from one another primarily in terms of what types of Properties and financing are eligible. Except as otherwise stated, FHA's Single Family programs are limited to one-to-four-family Properties that are owner-occupied Principal Residences. FHA insures Mortgages on Real Property secured by:
detached or semi-detached dwellings

Manufactured Housing (double wide or larger, and must be the only residence located on the subject property lot/parcel unless identified as an ADU
townhouses or row houses

individual units within FHA-approved Condominium Projects planned unit development (PUD)
---

---
Call us 888-958-4228
---
www.MORTGAGE-WORLD.com, LLC is a licensed residential mortgage broker and will match you with the lender that will approve your FHA loan.